I was first elected to the Software in the Public Interest board back in 2009. I was re-elected in 2012. This July I am up for re-election again. For a variety of reasons I've decided not to stand; mostly a combination of the fact that I think 2 terms (6 years) is enough in a single stretch and an inability to devote as much time to the organization as I'd like. I mentioned this at the May board meeting. I'm planning to stay involved where I can.
My main reason for posting this here is to cause people to think about whether they might want to stand for the board. Nominations open on July 1st and run until July 13th. The main thing you need to absolutely commit to is being able to attend the monthly board meeting, which is held on IRC at 20:30 UTC on the second Thursday of the month. They tend to last at most 30 minutes. Of course there's a variety of tasks that happen in the background, such as answering queries from prospective associated projects or discussing ongoing matters on the membership or board lists depending on circumstances.
It's my firm belief that SPI do some very important work for the Free software community. Few people realise the wide variety of associated projects. SPI offload the boring admin bits around accepting donations and managing project assets (be those machines, domains, trademarks or whatever), leaving those projects able to concentrate on the actual technical side of things. Most project members don't realise the involvement of SPI, and that's largely a good thing as it indicates the system is working. However it also means that there can sometimes be a lack of people wanting to stand at election time, and an absence of diversity amongst the candidates.
I'm happy to answer questions of anyone who might consider standing for the board; #spi on irc.oftc.net is a good place to ask them - I am there as Noodles.
I previously wrote about tracking a ship around the world, but never followed up with the practical details involved with shipping my life from the San Francisco Bay Area back to Belfast. So here they are, in the hope they provide a useful data point for anyone considering a similar move.
Firstly, move out. I was in a one bedroom apartment in Fremont, CA. At the time I was leaving the US I didn't have anywhere for my belongs to go - the hope was I'd be back in the Bay Area, but there was a reasonable chance I was going to end up in Belfast or somewhere in England. So on January 24th 2014 I had my all of my belongings moved out and put into storage, pending some information about where I might be longer term. When I say all of my belongings I mean that; I took 2 suitcases and everything else went into storage. That means all the furniture for probably a 2 bed apartment (I'd moved out of somewhere a bit larger) - the US doesn't really seem to go in for the concept of a furnished lease the same way as the UK does.
I had deliberately picked a moving company that could handle the move out, the storage and the (potential) shipping. They handed off to a 3rd party for the far end bit, but that was to be expected. Having only one contact to deal with throughout the process really helped.
Fast forward 8 months and on September 21st I contacted my storage company to ask about getting some sort of rough shipping quote and timescales to Belfast. The estimate came back as around a 4-6 week shipping time, which was a lot faster than I was expecting. However it turned out this was the slow option. On October 27th (delay largely due to waiting for confirmation of when I'd definitely have keys on the new place) I gave the go ahead.
Container pickup (I ended up with exclusive use of a 20ft container - not quite full, but not worth part shipment) from the storage location was originally due on November 7th. Various delays at the Port of Oakland meant this didn't happen until November 17th. It then sat in Oakland until December 2nd. At that point the ETA into Southampton was January 8th. Various other delays, including a week off the coast of LA (yay West Coast Port Backups) meant that the ship finally arrived in Southampton on January 13th. It then had to get to Belfast and clear customs. On January 22nd 2015, 2 days shy of a year since I'd seen them, my belongings and I were reunited.
So, on the face of it, the actual time on the ship was only slightly over 6 weeks, but all of the extra bits meant that the total time from "Ship it" to "I have it" was nearly 3 months. Which to be honest is more like what I was expecting. The lesson: don't forget to factor in delays at every stage.
The relocation cost in the region of US$8000. It was more than I'd expected, but far cheaper than the cost of buying all my furniture again (plus the fact there were various things I couldn't easily replace that were in storage). That cost didn't cover the initial move into storage or the storage fees - it covered taking things out, packing them up for shipment and everything after that. Including delivery to a (UK) 3rd floor apartment at the far end and insurance. It's important to note that I'd included this detail before shipment - the quote specifically mentioned it, which was useful when the local end tried to levy an additional charge for the 3rd floor aspect. They were fine once I showed them the quote as including that detail.
Getting an entire apartment worth of things I hadn't seen in so long really did feel a bit like a second Christmas. I'd forgotten a lot of the things I had, and it was lovely to basically get a "home in a container" delivered.
I've been meaning to move away from Movable Type for a while; they no longer provide the "Open Source" variant, I've had some issues with the commenting side of things (more the fault of spammers than Movable Type itself) and there are a few minor niggles that I wanted to resolve. Nothing has been particularly pressing me to move and I haven't been blogging as much so while I've been keeping an eye open for a replacement I haven't exerted a lot of energy into the process. I have a little bit of time at present so I asked around on IRC for suggestions. One was ikiwiki, which I use as part of helping maintain the SPI website (and think is fantastic for that), the other was Jekyll. Both are available as part of Debian Jessie.
Jekyll looked a bit fancier out of the box (I'm no web designer so pre-canned themes help me a lot), so I decided to spend some time investigating it a bit more. I'd found a Movable Type to ikiwiki converter which provided a starting point for exporting from the SQLite3 DB I was using for MT. Most of my posts are in markdown, the rest (mostly from my Blosxom days) are plain HTML, so there wasn't any need to do any conversion on the actual content. A minor amount of poking convinced Jekyll to use the same URL format (permalink: /:year/:month/:title.html in the _config.yml did what I wanted) and I had to do a few bits of fix up for some images that had been uploaded into MT, but overall fairly simple stuff.
Next I had to think about comments. My initial thought was to just ignore them for the moment; they weren't really working on the MT install that well so it's not a huge loss. I then decided I should at least see what the options were. Google+ has the ability to embed in your site, so I had a play with that. It worked well enough but I didn't really want to force commenters into the Google ecosystem. Next up was Disqus, which I've seen used in various places. It seems to allow logins via various 3rd parties, can cope with threading and deals with the despamming. It was easy enough to integrate to play with, and while I was doing so I discovered that it could cope with importing comments. So I tweaked my conversion script to generate a WXR based file of the comments. This then imported easily into Disqus (and also I double checked that the export system worked).
I'm sure the use of a third party to handle comments will put some people off, but given the ability to export I'm confident if I really feel like dealing with despamming comments again at some point I can switch to something locally hosted. I do wish it didn't require Javascript, but again it's a trade off I'm willing to make at present.
Anyway. Thanks to Tollef for the pointer (and others who made various suggestions). Hopefully I haven't broken (or produced a slew of "new" posts for) any of the feed readers pointed at my site (but you should update to use feed.xml rather than any of the others - I may remove them in the future once I see usage has died down).
(On the off chance it's useful to someone else the conversion script I ended up with is available. There's a built in Jekyll importer that may be a better move, but I liked ending up with a git repository containing a commit for each post.)
I moved back from the California Bay Area to Belfast a while back and for various reasons it looks like I'm going to be here a while, so it made sense to have my belongings shipped over here. They haven't quite arrived yet, and I'll do another post about that process once they have, but I've been doing various tweets prefixed with "[shipping]" during the process. Various people I've spoken to (some who should know me better) thought this was happening manually. It wasn't. If you care about how it was done, read on.
I'd been given details of the ship carrying my container, and searching for that turned up the excellent MarineTraffic which let me see the current location of the ship. Turns out ships broadcast their location using AIS and anyone with a receiver can see the info. Very cool, and I spent some time having a look at various bits of shipping around the UK out of interest. I also found the ship's itinerary which give me some idea of where it would be calling and when. Step one was to start recording this data; it was time sensitive and I wanted to be able to see historical data. I took the easy route and set up a cron job to poll the location and itinerary on an hourly basis, and store the results. That meant I had the data over time, if my parsing turned out to miss something I could easily correct it, and that I wasn't hammering Marine Traffic while writing the parsing code.
Next I wanted to parse the results, store them in a more manageable format than the HTML, and alert me when the ship docked somewhere or set off again. I've been trying to learn more Python rather than doing my default action of turning to Perl for these things, and this seemed like a simple enough project to try out. Beautiful Soup seemed to turn up top for HTML parsing in Python, so that formed the basis. Throwing the info into a database so I could do queries felt like the right move so I used SQLite - if this had been more than a one off I'd have considered looking at PostgreSQL and its GIS support. Finally Tweepy made it very easy to tweet from Python in about 4 lines of code. The whole thing weighed in at only 175 lines of code, mostly around pulling the info out of the HTML and then a little to deal with checking for state changes against the current status and the last piece of info in the database.
The pieces of information I chose to store were the time of the update (i.e. when the ship sent it, not when my script ran), reported area, reported state, the position + course, reported origin, reported destination and eta. The fact this is all in a database makes it very easy to do a few queries on the data.
How fast did the ship go?
sqlite> SELECT MAX(speed) FROM status;
MAX(speed)
21.9

What areas did it report?
sqlite> SELECT area FROM status GROUP BY area;
area
-
Atlantic North
California
Caribbean Sea
Celtic Sea
English Channel
Hudson River
Pacific North
Panama Canal

What statuses did we see?
sqlite> SELECT status FROM status GROUP BY status;
status
At Anchor
Moored
Stopped
Underway
Underway using Engine

Finally having hourly data lets me draw a map of where the ship went. The data isn't complete, because the free AIS info depends on the ship being close enough to a receiving station. That means there were a few days in the North Atlantic without updates, for example. However there's enough to give a good idea of just how well traveled my belongings are, and it gave me an excuse to play with OpenLayers.
(Apologies if the zoom buttons aren't working for you here; I think I need to kick the CSS in some manner I haven't quite figured out yet.)
I got a belated Christmas present today. Thanks Jo + Simon!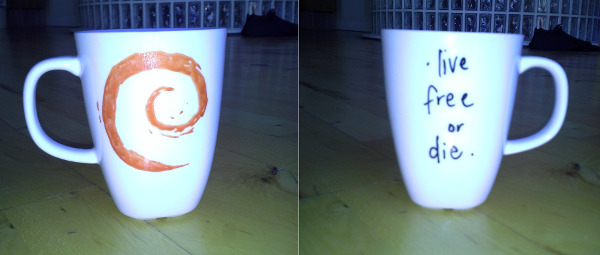 subscribe via RSS