Building a desktop to improve my work/life balance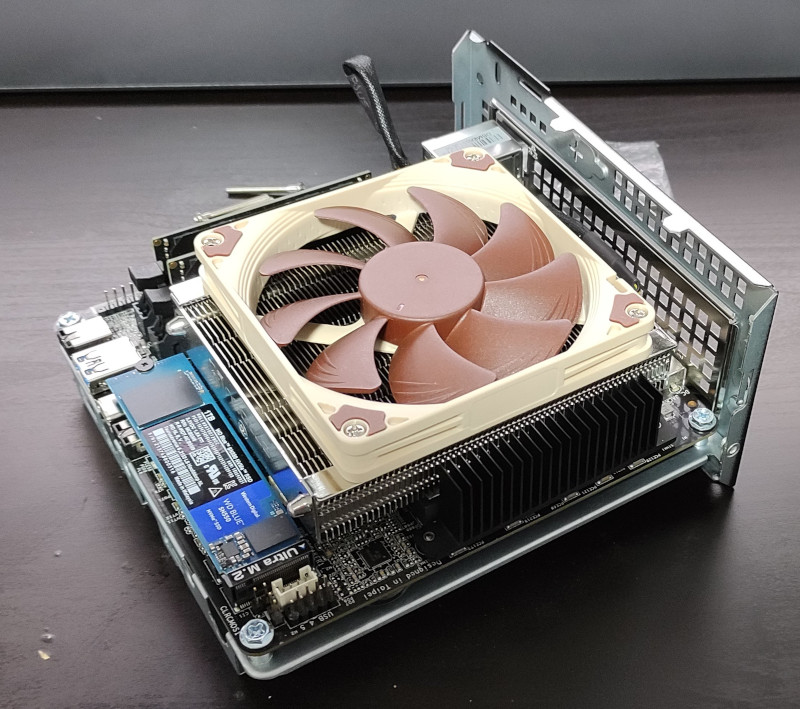 It's been over 20 months since the first COVID lockdown kicked in here in Northern Ireland and I started working from home. Even when the strict lockdown was lifted the advice here has continued to be "If you can work from home you should work from home". I've been into the office here and there (for new starts given you need to hand over a laptop and sort out some login details it's generally easier to do so in person, and I've had a couple of whiteboard sessions that needed the high bandwidth face to face communication), but day to day is all from home.
Early on I commented that work had taken over my study. This has largely continued to be true. I set my work laptop on the stand on a Monday morning and it sits there until Friday evening, when it gets switched for the personal laptop. I have a lovely LG 34UM88 21:9 Ultrawide monitor, and my laptops are small and light so I much prefer to use them docked. Also my general working pattern is to have a lot of external connections up and running (build machine, test devices, log host) which means a suspend/resume cycle disrupts things. So I like to minimise moving things about.
I spent a little bit of time trying to find a dual laptop stand so I could have both machines setup and switch between them easily, but I didn't find anything that didn't seem to be geared up for DJs with a mixer + laptop combo taking up quite a bit of desk space rather than stacking laptops vertically. Eventually I realised that the right move was probably a desktop machine.
Now, I haven't had a desktop machine since before I moved to the US, realising at the time that having everything on my laptop was much more convenient. I decided I didn't want something too big and noisy. Cheap GPUs seem hard to get hold of these days - I'm not a gamer so all I need is something that can drive a ~ 4K monitor reliably enough. Looking around the AMD Ryzen 7 5700G seemed to be a decent CPU with one of the better integrated GPUs. I spent some time looking for a reasonable Mini-ITX case + motherboard and then I happened upon the ASRock DeskMini X300. This turns out to be perfect; I've no need for a PCIe slot or anything more than an m.2 SSD. I paired it with a Noctua NH-L9a-AM4 heatsink + fan (same as I use in the house server), 32GB DDR4 and a 1TB WD SN550 NVMe SSD. Total cost just under £650 inc VAT + delivery (and that's a story for another post).
A desktop solves the problem of fitting both machines on the desk at once, but there's still the question of smoothly switching between them. I read Evgeni Golov's article on a simple KVM switch for €30. My monitor has multiple inputs, so that's sorted. I did have a cheap USB2 switch (all I need for the keyboard/trackball) but it turned out to be pretty unreliable at the host detecting the USB change. I bought a UGREEN USB 3.0 Sharing Switch Box instead and it's turned out to be pretty reliable. The problem is that the LG 32UM88 turns out to have a poor DDC implementation, so while I can flip the keyboard easily with the UGREEN box I also have to manually select the monitor input. Which is a bit annoying, but not terrible.
The important question is whether this has helped. I built all this at the end of October, so I've had a month to play with it. Turns out I should have done it at some point last year. At the end of the day instead of either sitting "at work" for a bit longer, or completely avoiding the study, I'm able to lock the work machine and flick to my personal setup. Even sitting in the same seat that "disconnect", and the knowledge I won't see work Slack messages or emails come in and feeling I should respond, really helps. It also means I have access to my personal setup during the week without incurring a hit at the start of the working day when I have to set things up again. So it's much easier to just dip in to some personal tech stuff in the evening than it was previously. Also from the point of view I don't need to setup the personal config, I can pick up where I left off. All of which is really nice.
It's also got me thinking about other minor improvements I should make to my home working environment to try and improve things. One obvious thing now the winter is here again is to improve my lighting; I have a good overhead LED panel but it's terribly positioned for video calls, being just behind me. So I think I'm looking some sort of strip light I can have behind the large monitor to give a decent degree of backlight (possibly bouncing off the white wall). Lots of cheap options I'm not convinced about, and I've had a few ridiculously priced options from photographer friends; suggestions welcome.