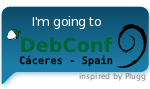 I've known I was going for a while, but only finally booked the holiday off work and had it approved last week (unfortunately they're not giving me the time for free like last year. :( ). I'll be there for DebConf proper (ie 23rd until 31st). In the unlikely event anyone else is flying DUB<>MAD my flights are:

2009-07-23 06:00 (DUB) -> 09:30 (MAD) FR 7158
2009-07-31 20:15 (MAD) -> 21:50 (DUB) EI 595

I'm on the 16:25 Talgo from Madrid and then the 09:25 back on the 31st. Looks like I'll have company from the train booking page.
Also I've been doing the first draft of the room allocation. If you're expecting to stay at DebConf organised accommodation you should check your name is on this list with the expected dates, and email rooms@debconf.org if it's not.