Early this summer I went on holiday to WildWind , in Greece. It was a great place for people wanting a sailing holiday. Despite the fact that they are not really set up for beginners, they were very good and I thoroughly enjoyed my fortnight, and managed to learn some sailing in the process.
One of my photos looks like this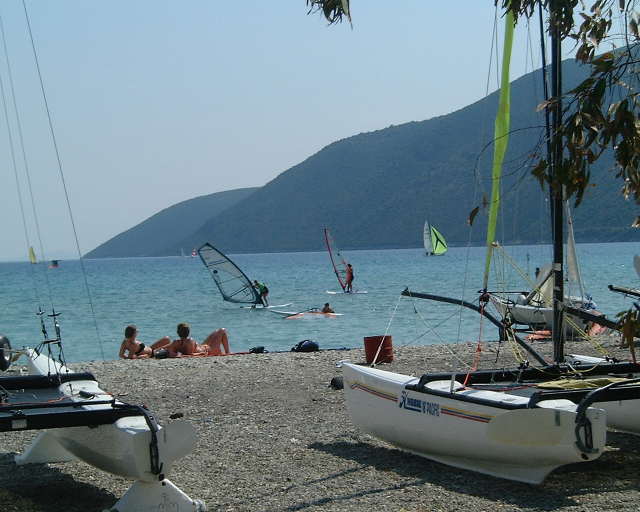 I decided that this was quite good, as it managed to include a selection of the activities available.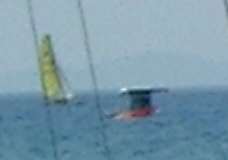 Some catamarans
There was a good selection of (Hobie) catamarans available, I think that this is the FX1, and a 16. Capsizing them is good fun, and the wind that got up in the afternoons meant that everyone got to capsize them.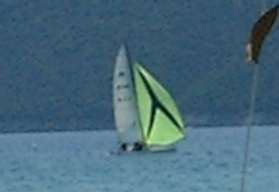 A monohull
There were also a couple of nice-looking mono-hulls. I am not convinced by them, mainly do to the lack of stability. However, they are maneuverable, and can be fun because of this. Sorry, I am just one who likes the idea of a floating sunlounger, rather than a bucking bronco for my sailing.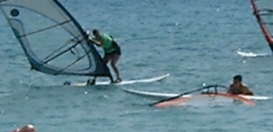 Windsurfing
Next door, is a windsurfing school. One of the holiday options was to include the windsurfing, however it isn't for me. I think they are even less stable than the monohulls. I wouldn't have a chance. These trainee windsurfers filled the water in some conditions, making it difficult to drive round them, particularly the ones in the water, that (like a speed bump) would damage the bottom of your boat if it were to run over one. Also, when they were standing up, going at a decent speed, it wasn't obvious that they knew the right of way rules.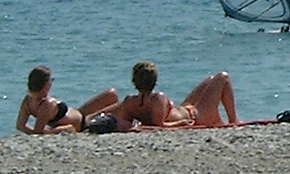 Sunbathers
You don't have to spend all your time on the water. Some times you feel like you need a rest after a particularly hard run, or just want to wind down. There was nice weather, some shade with chairs where you could sit and read, watching the sailing, and there was a pool. For the more active, they had mountain bikes that you could borrow, and go up the local mountains.
Last updated: 08:49, 26 Jul 2003 Link..
---